ADHD has been a hot topic of late. Last weekend, the Herald Sun printed an article on the front page about the rise in ADHD medication prescriptions that have doubled in the last 10 years, and this was mostly due to the increase in adults seeking medication for recent diagnoses of ADHD. Specifically, there were references to the rise in adult females being diagnosed with ADHD. In school, these women would most likely have flown under the radar with an "inattentive presentation" of ADHD.
Many people are aware of the "hyperactive" form of ADHD.  It commonly shows-up as big behaviours that get in the way in the classroom and hinder learning (amongst other things).  Most commonly, this kind of ADHD affects boys.
DID YOU KNOW? girls are more likely to experience "Inattentive" ADHD (ADHD-i) which does not show up in this way and can therefore remain undetected.
DID YOU KNOW? girls living with undetected ADHD struggle not only to achieve their potential academically and in daily life, but can also experience higher rates of mental health problems like anxiety and depression than their peers.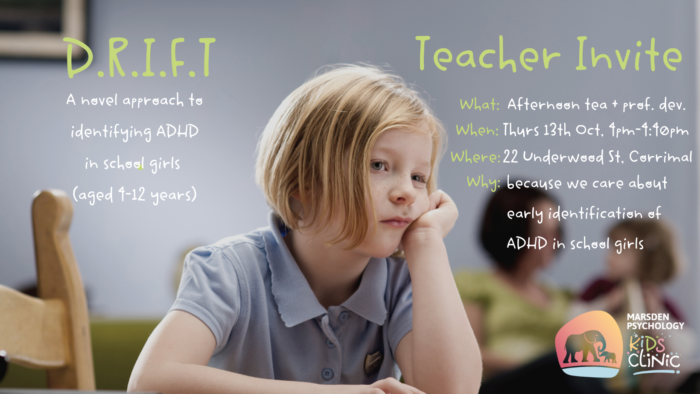 Big Blue Table Afternoon Tea for ADHD
This October is Mental Health Month, and Marsden Psychology is committed to sharing our ever growing expertise in the early detection, diagnosis and treatment of ADHD-i in girls.  We acknowledge the vital role of primary school teachers and early childhood educators as the "eyes and ears" of early awareness, and as gatekeepers of healthy childhood development (including mental healthiness). 
We are delighted to be hosting a Big Blue Table Afternoon Tea to raise awareness and some funds for Beyond Blue. This is an opportunity to be part of an important and invigorating conversation that will include explanation of our novel, easy to apply D.R.I.F.T. model of ADHD-i. Our team also welcomes the chance to acknowledge dedicated educators for their contribution to the health and wellbeing of students in our community.
To express your interest, please email our event coordinator, Dr Virginia Williams via virginia@marsdenpsychology.com.au
If you would like to donate to our Big Blue Table fundraising, please visit the following link.  All funds raised go directly to Beyond Blue's mental health initiatives:
Not sure where to start or have a question?
There can be lots of questions that come up when you're trying to make a decision about whether to see a psychologist. If you have a question that we haven't answered in our FAQ, please don't hesitate to get in touch.